Consider a right prism of any type of base.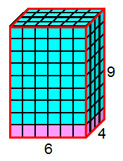 If the area of the base is B, consider a prism with that base area that is 1 unit high.


To find the volume of the right prism, multiply this base by the height.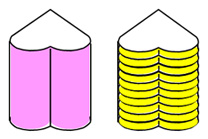 This verifies the following conjecture for the volume of a prism:
V = B x h
where
V is the volume
B is the area of the base
h is the height
Consider two prisms that have the same base and height but look very different:
There are two stacks of cartons of tuna in a warehouse, one stack is straight up and down, but the other stack is leaning to one side.