Balances are used to measure mass. The units of mass are grams (g). The instrument you will use most often to measure mass is the triple beam balance. The triple beam balance gets its name from three long, horizontal metal bars, called beams, connected to a pointer on the right-hand side. The pointer should always be at zero point before measuring the mass of any object. On each beam is a rider that slides across the beam. Before using a triple beam balance, you should remember the following:
Slide all riders back to "0" on the beams before massing any object. Use the adjustment knob to zero out the instrument if necessary.
Place the object to be massed on the pan. Chemicals should be placed on waxed or filter paper before massing.
Gently slide the riders along the beams while determining mass. The pointer will swing above below the zero point while you are adjusting the riders.
Make sure each rider is in a notch before reading.
The mass of the object will be the sum of the masses on all beams (measured to a tenth of a gram).
Always return the riders to zero BEFORE removing the object from the pan.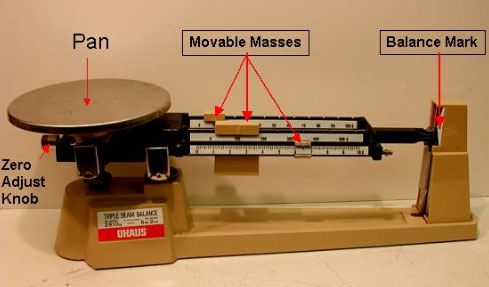 To practice using a triple beam balance, click on the link below and complete the following tutorial.